BFF Martin Buber & Amanda Palmer: They must be cousins.
If you can calm yourself down enough to get over yourself, then you'll start to remember why you're there in the first place--to share your love.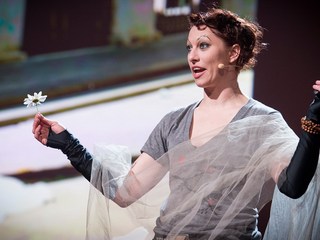 Amanda Palmer, taller than eight feet if you ask me...check out her Ted Talks
Here's the thing. I love these people, I mean, truly love them. And it's all because they loved me first. Sounds familiar...
Today's trip to Blog-ville is daunting. How can I possibly do this topic justice? I think I'll do what Zora Neale Hurston did before she wrote her big novel...I'll transcribe. Let me take you back in time, to the transcription of a talk I presented February 8, 2015 at the beautiful grand church connected to our University campus while their pastor was visiting Israel. I wrote it at 4 in the morning and had the pleasure of watching the sun rise over snow in my backyard.
Enjoy.